2006 – 2007  Charles Hoffman
2007 – 2008  Charles Hoffman
2008 – 2009  Charles Hoffman, Nicholas Haskell
2009 – 2010  Charles Hoffman, Nicholas Haskell
2010 – 2011  Nicholas Haskell
2011 – 2012  Nicholas Haskell, Conner Hamilton
2012 – 2013  Marissa Smith, Connor Hunt, Ethan Tapper
2013 – 2014  Marissa Smith, Connor Hunt
2014 – 2015  Marissa Smith, Connor Hunt, Brennan Douglass
2015 – 2016  None
2016 – 2017  None
2017 – 2018  Tanner Bell, Sam Stevens
2018 – 2019   Jessalyn Stockwell, Dakota Fillion
2019 – 2020   Jessalyn Stockwell
What Are Some Past Recipients Doing Now?
Michael Obuchowski.  One of the earliest recipients, Mike went on to get a degree and worked for many years as a Vice President at Basketville in Putney, VT, as well as serving as Speaker of the Vermont House.
Tim Morton.  Upon graduating from UVM at the top of his class, Tim worked as a private consulting forester before joining the State of Vermont's Forestry Division.  Serving first as the Windham/Windsor County Forester, he then has served as our head state lands Stewardship Forester.
Ethan Tapper.  After working with draft horses at Shelburne Farms, Ethan graduated from UVM and became a consulting forester for Fountains Forestry in Montpelier.
Conner Hamilton.  After graduation, Conner came back home to West Brattleboro, where he runs his own contracting and farming business.  He is truly a Jack-of-all trades; he sugars, helps out in the sawmill, and runs excavation equipment.
Nick Haskell.  After graduating from UNH with both 2- and 4-year degrees in forestry, Nick came home to Brattleboro and now works full time for two consulting foresters in Windham County.
Thank you so much for honoring me as the recipient of one of your generous scholarships.  I am truly and deeply appreciative of your support of my dream, vision, and future livelihood. — Ethan T. Burlington, VT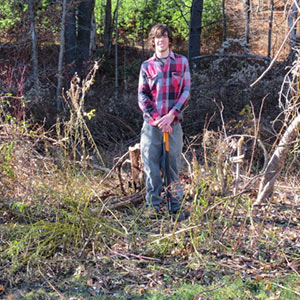 Brennan Douglass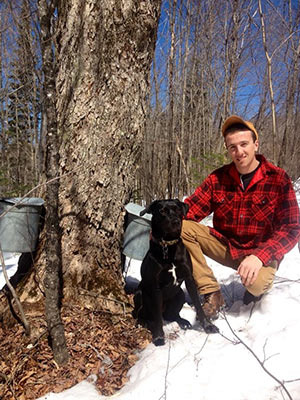 Connor Hunt
Save
Save