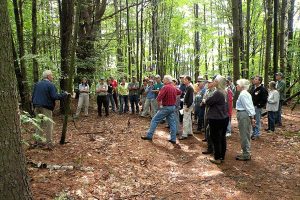 WRWA's purpose is to support and promote science and education relating to conservation, forestry, and associated fields.
The Windham Regional Woodlands Association [WRWA] is a non-profit association of woodland owners and managers, members of the wood products industry, and other interested parties in the Windham County Region who advocate both sustainable management practices and the enjoyment of forests and their ecosystems.  In support of these ends, WRWA offers educational opportunities for all age groups.  Areas of interest include:  biodiversity; clean air and water; cultural and historic resources; fair and equitable taxation of woodland; forest products; recreation; scenic beauty; and wildlife habitat.  We recognize that these concepts are continually evolving and, therefore, will strive to consider the most current thinking and values regarding them.
Our Activities Include…
Educational field trips and workshops on various aspects of woodland ecology and forest management;
Woodlot Tips, a quarterly newsletter with informative articles and program details;
Scholarships awarded to high school graduates who reside in Windham County and who are pursuing college degrees in forestry or a related conservation field;
An annual membership meeting featuring interesting speakers, a tour to demonstrate forest practices, and a potluck cookout;
Co-sponsorship of programs on topics such as forest management, control of invasive species, and chainsaw safety;
WRWA Forest Management and Ecology Library, which is available to members.
WRWA does not discriminate based on race, color, creed, sex, gender identity, sexual orientation, disability, or national origin.
WRWA is a non-profit 501 (c)(3) organization. All gifts to WRWA are tax deductible to the extent permitted by law.
I regard Windham Regional Woodlands Association as a very important group that plays a major role in caring for our forests – and in teaching us novices how we can aid in that process. Fred H., Guilford, VT
Windham Regional Woodlands Association Bylaws
Windham Regional Woodlands Association Budget 2021/22
Save
Save