Our programs are usually free and open to the public, unless stated otherwise. Many of our program sites are on private property or in remote locations, so please register in advance, if requested, and heed the dress or equipment requirements.
March 25, Saturday, 11 AM. Sugarhouse Tour at Bunker Farm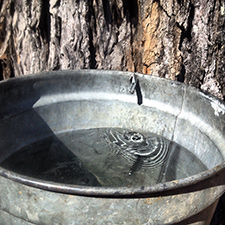 The 110-acre Bunker Farm is run by two families with expertise in naturally raising meats, annuals, and perennials, as well as maple syrup. The farm is also an agricultural educational center for students and the community. Visit the sugarhouse, watch the boiling process, and sample the delicious syrup, which won Best In Show at the 2016 Maplerama tasting competition. Take a tour of the 16-acre working sugar bush and visit with the farm animals. This family-friendly event is free and open to the public. Bunker Farm is located at 857 Bunker Road, Dummerston. More information and directions here.
Saturday, April 1, 9:30 AM – 3 PM. Field Trip to Somerset Old-Growth Forest. WRWA Members Only
RESCHEDULED TO Saturday, April 8, 9:30 AM – 3 PM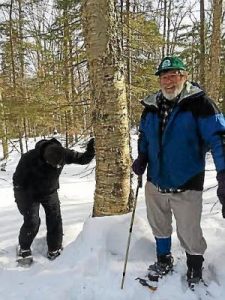 County Forester Bill Guenther will lead a small group of 5-12 WRWA members on a tour of old-growth forest on a 60-acre property that was a gift to Leland & Gray High School. About 12-15 acres are stocked with big birches; the remainder is in spruce/fir and beaver flowage. At about noon, hikers will break for a picnic lunch at the campsite before continuing on to the birch stand with some tree trunks greater than three feet in diameter. This moderate-to-strenuous hike involves some bushwhacking in the remote area and requires both x-country skis for the road and snowshoes for the woods. Bring a bag lunch.  Dress warmly and in layers. Because of very limited parking at the site, we will meet in West Brattleboro at 9:30 AM to carpool. Call Bill Guenther at 802-257-7967 (ext. 305) by March 21 to reserve a spot, get directions to the meeting place, and to make sure you've got the right gear. Bill also needs to verify that the access road has been plowed and will notify registered participants if adverse road conditions necessitate cancelation. More information and directions here.
April 7, Friday, 7 PM. Into the Woods with Our Children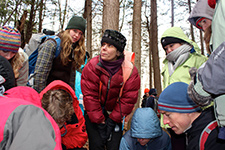 Renowned naturalist Lynn Levine of Dummerston will reveal her hands-on approach to awakening in youngsters an enduring love of the natural world. A focus of her talk will be how to break down barriers so children will want to go into the woods, rather than play with their electronic devices, and how we can help them develop a need to return to the woods again and again. A consulting forester, environmental educator, and author of nature-based books for adults and children, Lynn has created and taught nature-based curricula for the Vermont Institute of Natural Resources and local elementary schools. Her talk should be particularly pertinent for parents and environmental and science teachers. This free program is open to the public and co-sponsored by WRWA, the Vermont Learning Collaborative, Bonnyvale Environmental Education Center, Southeastern Vermont Audubon Society, Dummerston Conservation Commission, Putney Mountain Association, and Windmill Hill Pinnacle Association. The presentation will take place at Vermont Learning Collaborative, 471 US Route 5, Dummerston, VT. More information is here. Directions are here.
Save the Dates!
July 25, Tuesday, 5:30 PM. Forester Tour of Recent Timber Harvest on Scott Farm. Join Consulting Forester Ian Martin and County Forester Bill Guenther for a tour of a recent timber harvest. Located on the historic Scott Farm (in Dummerston), this job was done by a mechanical harvester but also has some white pine problems that will be discussed. More details will come in the Spring 2017 Newsletter.
November 4, Saturday. The BIG Tree Tour with County Forester Bill Guenther. This tour only happens every other year and will involve travel throughout Windham County to look at either champion or significant trees on the BIG Tree registry. This is an all-day, fun-filled trip. More details will come in the Spring and Summer 2017 newsletters.
Save
Save
Save